In the top menu, you will find all you need to keep track of your account. You can access the top menu from the menu icon in the top left corner of the app.

The first thing you will see is your Cycler Status and by clicking on the arrow you can find out how to get to the next level.
At the bottom of the menu, you can find links to our Terms of use, Privacy Policy, and regulatory information. You can also see your app version – we recommend keeping your app updated with the latest version.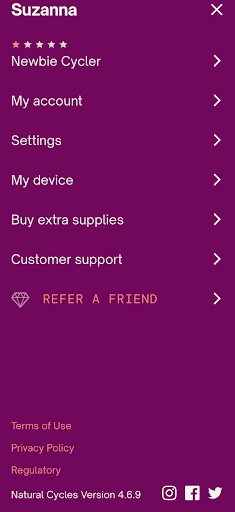 My account
In the My account section, you can see which email address is linked to your account, confirm or edit your email and change your password.
In the My account section, you can also see an overview of your subscription and find instructions about how to change subscription plans or cancel your subscription.
You can also log out of your account or permanently delete your account.
Settings
In the Settings section, you can find all the options for how your account is set up.
You can change your app mode (for example from NC° Birth Control to NC° Plan Pregnancy). You can also change your app language, which units you want to use (Celsius or Fahrenheit) and how you want your calendar to look.
In the Settings section you can also customize your trackers and reminders. You can enable or disable push notifications, and switch your app appearance to the dark mode. Finally, you can manage the Partner view as well as your consent and permissions.
My device
In the My device section you can find information about the device you are using, as well as switch measuring devices.
To switch measuring devices, click on Connect other device and select the device that you are switching to.
If you use Natural Cycles with the NC° Thermometer Gen1 or NC° Thermometer Gen2, you will also find the measuring training there.
Buy extra supplies
In the Buy extra supplies section you can buy any extra products that you might need during your Natural Cycles journey. For example, you can buy LH tests or a new thermometer if needed.
If you're not finding what you're looking for in the app, you can also visit the NC° webshop where we have a larger selection of products.
Customer support
In the Customer support section you can find some useful articles about how Natural Cycles works, as well as a link to Cyclerpedia, and another link to contact our customer support team.
This section also includes a link to our Instructions for use.
Refer a friend
In the Refer a friend section you can find your individual referral code and see how many friends you have referred so far. We write a bit more about our Refer a friend program here.