If you have a NC° Thermometer Gen1, follow the steps below to measure:
1. While the thermometer is off, place the thermometer in your mouth and under your tongue, as far back as possible, next to the root of your tongue as depicted by the arrows in the diagram below.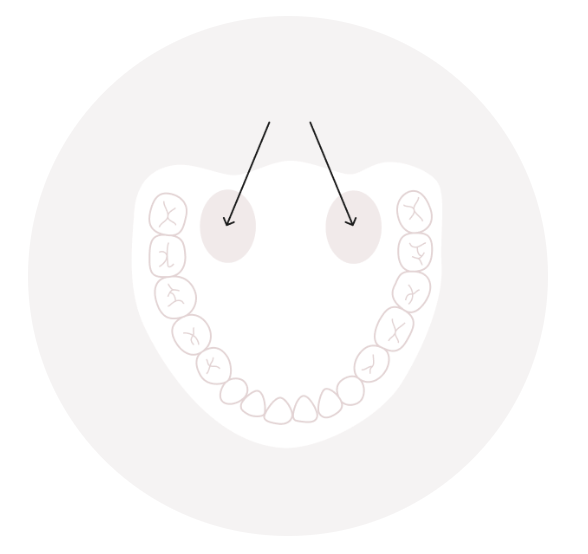 2. Close your mouth.
3. Press the on/off button to begin measuring once the thermometer is in the correct position and your mouth is closed. A short signal tone will confirm the thermometer has turned on. Try to keep still while measuring, and keep your mouth closed to keep any cool air out and breathe through your nose.
4. The time it will take to measure will vary, but once the thermometer begins to beep, this means the measuring has completed: you can remove the thermometer from your mouth and add your temperature into the app!
The thermometer will switch itself off automatically after approximately 10 minutes, but if you want to save the temperature to read it at a later time, or if the beep is disturbing you, you can turn off the thermometer after the beeping starts, and turn it back on whenever you are ready to read the temperature. The latest value is shown on the thermometer for only one second together with a small "M" symbol (M=memory) before the thermometer resets to start measuring a new temperature again, so please make sure that you have the lights on and are ready to read it before turning it back on. Once the thermometer resets to measure a new temperature, you will no longer be able to view your last temperature again. Learn more about saving your temperature here.
Warning: after the latest recorded temperature value is shown, the thermometer will show a reloading temperature of 37.00 °C (±0.01 °C, 36.99-37.01 °C) or 98.60 °F (±0.02 °F, 98.58-98.62 °F) before switching to measuring mode to begin measuring a new temperature – it's important to not mistake this for your recorded temperature. Remember, your last recorded temperature will show with a small "M" symbol (M=memory) which is how you can be certain it was your last temperature.
Reading the saved temperature can be re-done as many times as you wish, as long as you turn the thermometer off before it shows the reloading temperature.
You can always refer to the Instructions for Use for the NC° Thermometer Gen1 for any questions you have about using this thermometer.
You can use the Measuring Training and the Measuring Guide in the app to check your measuring skills.
For more information on when and how to measure your Basal Body Temperature correctly, please make sure to review this article.