Natural Cycles can be used with a Gen 2 or Gen 3* Oura Ring. When using Natural Cycles with an Oura Ring, the ring will measure your temperature trend data while you sleep!
*Gen 3 Oura Rings require an active Oura Membership.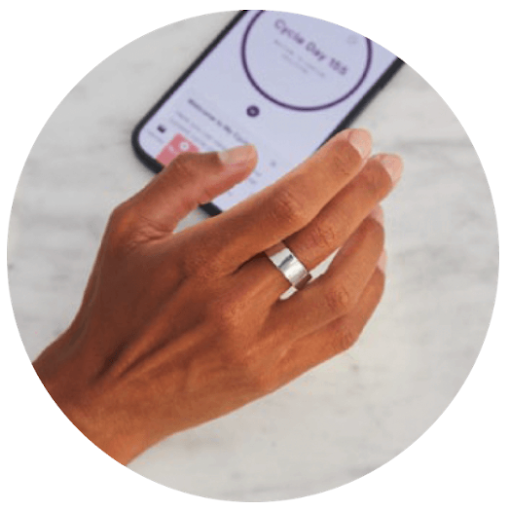 How does the Oura Ring work with Natural Cycles?
Wear the Oura Ring while you sleep

Wake up and

sync your Oura Ring with the Oura App

Wait for the push notification from your NC° app letting you know your fertility status is ready

Learn your daily fertility status!
The Oura Ring is a smart device that uses advanced sensor technology, providing both accuracy and comfort without compromise. It can measure heart rate, heart rate variability, temperature trends, activity, and sleep quality. Beyond tracking sleep and activity insights in the Oura App, using the Oura Ring with Natural Cycles unlocks insights into your cycle, body, and fertility.
The Oura Ring collects 'temperature trend' data while you sleep instead of one single measurement. The Natural Cycles algorithm then creates an 'absolute value' based on that temperature trend data, which is the measurement you'll see in the Natural Cycles app. This is the temperature value that will be used to calculate your fertility status.
Visit this link to learn more about how to sync your Oura Ring with the Natural Cycles app.
How does using Natural Cycles with an Oura Ring differ from an oral thermometer?
The biggest difference with using an Oura Ring as opposed to an oral thermometer is that you don't have to remember to measure your temperature every morning because you wear the ring overnight.
Just make sure that you wear your (charged) ring every night. In the morning, sync your Oura Ring with the NC° app, check your fertility status, and that's it!
When using the NC° app with an Oura Ring, there are no changes to Natural Cycles' effectiveness. The same algorithm still interprets your personalized data, but now it's able to take temperature trends collected from an Oura Ring into account. Learn more about the effectiveness of Natural Cycles° powered by ŌURA here.
Please keep in mind that using the Oura Ring is not the same as measuring orally with a thermometer, and temperature trend data should not be compared to measurements from an oral thermometer or other devices. We write more about this here.
Where can I purchase an Oura Ring?
If you are new to Natural Cycles
You can sign up to use Natural Cycles with an Oura Ring via

our website

or by signing up through the Natural Cycles app.
If you are a current Natural Cycles user
You can purchase your Oura Ring via the app by going to the top menu >

Buy extra supplies

>

Claim my Oura offer

.
Kindly note that to be able to use the Oura Ring, you need to purchase an Oura membership, which is not a part of the Natural Cycles subscription.
If you have any questions about the Oura Ring and how it works, please refer to Oura's website and help page.
Can I use Natural Cycles with other wearables?
Aside from the Oura Ring, the only other wearable that is approved to be used with Natural Cycles is the Apple Watch.
While we do aim to add additional wearables, given that Natural Cycles is regulated as a medical device by the FDA in the US and CE marked in Europe, we're held to very high standards of quality and testing before our products reach our users. Since the Natural Cycles algorithm does need high quality temperature data collection, our team needs to do clinical studies to make sure it's just as effective as using an oral thermometer.
Learn more about using Natural Cycles with other wearables here.
If you are interested in the clinical studies around the Oura Ring, we recently published a research article here about the science and testing behind it.