How to set up the Oura Ring connection to Natural Cycles as a new user (without any prior temperature data)
If you have not done so already, you first need to sign up to Natural Cycles to access the Oura integration through this link.
After logging in to the Natural Cycles app for the first time, you will be automatically directed to the connection flow, which will help you set up the syncing between Natural Cycles and your Oura Ring.
How to set up the Oura Ring connection to Natural Cycles as an existing user (with previous temperature data)
If you do not have an Oura Ring yet, you can purchase it from the Natural Cycles app (from the top menu > Buy extra supplies > Claim my Oura offer).
If you are transitioning from using Natural Cycles with a thermometer to using Natural Cycles with an Oura Ring, please note that you won't be able to enter thermometer temperatures after you connect to your Oura Account, so we suggest you connect after your ring has arrived and at the start of your next period. Switching at the start of your next period will make for a smoother transition with fewer red days and will allow you to continue to use Natural Cycles with your thermometer until the beginning of your next cycle.
The algorithm will still have access to your previous data, but it may need some time to adjust to the new device. You may get more red days as a result, but this should adjust after a full cycle.
To set up the Oura integration from your already existing Natural Cycles account, tap the top menu > My device > Connect Oura Account.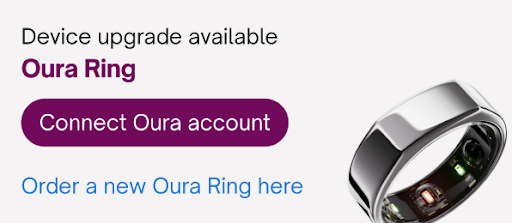 The day you switched to the Oura Ring will be marked in the Graph view with a vertical line alongside a ring symbol.
How to sync the Oura Ring to Natural Cycles
Please follow the user manual provided by Oura to measure temperature data trends during the night.
To sync your Oura Ring with your Natural Cycles app each day, you can either open your Oura App to initiate syncing with your Oura Ring or you can open the Natural Cycles app and click "Sync Oura Ring" which will redirect you to the Oura App to initiate syncing with your Oura Ring.
It may take a few minutes for your data to be synced as the NC° algorithm is working, so there's no need to stay in bed or keep your phone open as you wait for the Natural Cycles app to sync – this will successfully complete in the background. We recommend that you close the app and wait for a push notification telling you that your temperature is ready. To check if you have push notifications activated, please go to the top menu > Settings > Notifications.
Once you've saved your daily temperature, you will see your updated fertility status for the day on the Today page of the Natural Cycles app. It's important to ensure that your latest temperature data is synced and saved before you check your fertility status for the day as the new data for today may update your daily fertility status.
Please note that the timestamp shown under your temperature reflects the time at which syncing occurred, but the Oura Ring is able to distinguish between when you're sleeping and when you're awake. This means that the Oura Ring provides Natural Cycles with temperature trends from your sleep, which Natural Cycles processes into a single, absolute temperature value used by the Natural Cycles algorithm. The temperature you see is reflecting the temperature converted from your sleep, regardless of the time you sync the next day.
For optimal use of the NC app, we recommend that you sync your Oura data every morning.
If for any reason you skipped the syncing for several days, it is possible to sync multiple days of data at once. The newly synced temperatures will be displayed when you next open the Natural Cycles app. You will also be able to see if any of these temperatures have been excluded by the algorithm. Please note that adding new data on a day in the past may change a past fertility status.
You will also find a quick guide to using Oura within the NC app in the Learn tab > ŌURA and NC°.
You can read more about how Natural Cycles works here.
If you encounter any issues with the syncing process, this article with troubleshooting steps may help.