The NC° Thermometer Gen3 can save up to 10 temperatures, and your temperature will be automatically saved after you have measured so that you can sync it to the app later. To initiate syncing a saved temperature, open your Add data page and click on the History button on the thermometer while it is turned off. The thermometer screen will say "Find and sync past data".
When the sync is complete, you will see a message on the thermometer screen saying "Sync complete" and the temperature will be visible in your Add data page.
Once your data has synced, remember to click on Save at the bottom of the Add data page, to ensure that today's data is saved.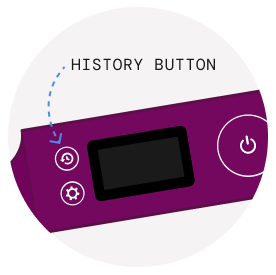 Can I sync multiple temperatures at once?
Yes, you can sync multiple temperatures at once by going to your Add data page and clicking on the History button on the thermometer.
You will then see a pop-up in the app letting you know that there are several un-synced temperatures in a list with the date and time of each temperature. By clicking on Save in this pop-up, all the previously un-synced temperatures will be synced to the Natural Cycles app.
You are also able to unselect any of the saved temperatures, in case you don't want a specific temperature to be synced to the app.
Please note that if you sync temperatures for multiple days, the algorithm will take all the new data into consideration and you may see changes in your fertility status on the days where new temperature data was added. For that reason, we recommend that you try to sync your temperature every day instead of syncing multiple temperatures at once.