In this article, we have outlined some troubleshooting steps to help you if you encounter any issues with your NC° Thermometer Gen2. If you have tried all the steps and still need help, you can reach out to our Support Team here.
I'm trying to sync my data right away after measuring, but the temperature doesn't appear in the app or I get the Er.Bt error
Switch the thermometer off

Stay on the

Add data

page

Click the Bluetooth button on the thermometer, and the data should start syncing
The initial pairing was successful but I'm having trouble syncing
Ensure that the NC° Thermometer Gen2 and your phone are within range

Close and open the app again.

Ensure that you have the latest version of the app installed

Turn the thermometer off and on again

Turn Bluetooth on your phone off and on again

If you have an Android phone, make sure that you have Location turned on

If you have other Bluetooth devices connected to your phone, please try disconnecting them before syncing

Unpair and pair your thermometer again with the app. You can do so through the top menu > My device

>

Set up thermometer again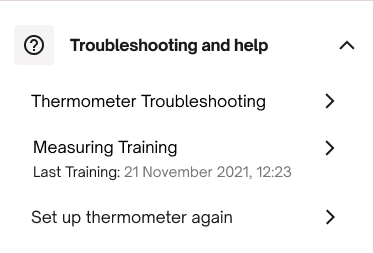 Can I add my temperature manually?
Hopefully, the steps above helped solve the problem. If that is not the case, as long as you've already paired your thermometer with the app, you can always add your temperature manually by tapping on the temperature field in the Add data page and typing in your temperature there.
You can view a saved temperature on your thermometer by pressing and holding the Bluetooth button for at least five seconds while the thermometer is switched off. The most recent temperature value will then be displayed along with the date and time of the measurement.
I've never managed to pair my thermometer to the app
You can find the steps for how to pair your NC° Thermometer Gen2 with the app here.
The thermometer doesn't measure and/or I see an error on the thermometer screen
For the thermometer to give you a temperature, you first need to pair it to the app.
If you have paired the thermometer and it gives you an error message, please go to the troubleshooting guide (found under My device > Troubleshooting and help > Thermometer Troubleshooting) to check what the error means and what steps to follow.