Note: this article refers to temperature fluctuations when Natural Cycles is used with a basal thermometer. If you use an Oura Ring, please refer to the Oura section of Cyclerpedia.
Why should I watch out for fluctuating temperatures?
The basal body temperature fluctuates daily, some days more than others. However, changes in your routine can lead to fluctuations as well (for example, alcohol consumption, changes in sleep, and sickness). This can cause the Natural Cycles algorithm to take longer to understand where you are in your cycle, which is why it is important to exclude your temperatures according to the instructions when needed.
How can you see if your temperature is fluctuating?
While the average temperature in the follicular and luteal phase differs from person to person, your temperature follows a curve with lower temperatures in the follicular phase and higher temperatures in the luteal phase.
During your follicular phase (from first period day to ovulation), your temperature generally stays below your cover line.
In the luteal phase (from ovulation to next period), your body releases progesterone, raising your temperature above the cover line.
When the temperature has risen enough to confirm ovulation, the most likely ovulation day gets calculated from the temperature curve. You can read more about ovulation detection here.
Generally speaking, we recommend that you look at your graph frequently, preferably after each temperature. This will help you understand what impacts your temperatures and how to reduce fluctuations.
The app will indicate that you have fluctuating temperatures if it is having difficulties finding your ovulation day due to large temperature variations. Your temperature variation is the number of degrees that your temperature is likely to change within each cycle phase. A single unusual temperature does not mean that your temperatures are fluctuating. If the algorithm categorizes your temperatures as fluctuating, this means that on average, your temperature variation is unstable which means that your variation is high.
Under the My Cycle > Insights tab in your app, you can see if your temperature variations for each cycle phase are considered stable or unstable (by scrolling down to Follicular phase and Luteal phase). If it shows "unstable", this means that your temperatures are fluctuating.
If your temperatures fluctuate a lot, the app may send you a message to let you know. Please remember to take these messages into consideration – the app is trying to help you.
What can I do if my temperature fluctuates?
If your temperature fluctuates a lot, the first thing to do is to review our measuring guidelines and re-assess your measuring routine, to see if anything should be adjusted. Most often, it may be that the thermometer placement in your mouth when measuring is incorrect and it takes just a small, simple adjustment to improve your measurements.
If you've confirmed you're measuring according to our measuring guidelines and your temperatures are still fluctuating, in general, temperature fluctuations can happen if you measure your temperature when:
You have slept 2 hours more/less than usual (ex: on weekends)

You have already snoozed

Your partner, a child, or a pet woke you up close to your usual measuring time

You have slept very poorly

You feel hungover

You have already gotten out of bed before measuring

You feel sick
If any of the above applies to you, you should still measure your temperature in the morning (to stay in the routine), but you should exclude it when entering it into the app.
Please also refer to the articles listed below, depending on what applies to you:
If you are working shifts,

please read more

here

.

If you have a baby or small children waking up at night

we recommend you measure after your longest stretch of sleep. Read more about this

here

.

If you travel across different time zones

, exclude your temperature on the first 1-2 days to give your body some time to adapt. After that, you can continue to measure as usual. Read more about this

here

.

If you often wake up during the night

,

this article

will help identify when is the best time for you to measure.

If you're not sure when you should exclude your temperature

,

this article

may help.

Do you have very few data points?

If you only have a few data points (for instance if you've just started with Natural Cycles) and believe that your temperature fluctuates, keep measuring until you complete one full cycle of measuring and adding data. A cycle begins on the first day of menstruation and ends when your next menstruation begins. The app will show you each cycle individually in the graph view. The graph is the best place to spot temperature fluctuations.

Do you measure with a basal thermometer?

You should only use a basal thermometer (with two decimals) or an Oura Ring to track your temperature with Natural Cycle. All other devices are not approved to be used with Natural Cycles. (

note: if you track your temperature trends with an Oura Ring, refer to

the Oura section

instead

).
What does a graph with fluctuating temperatures look like?
In the graph below, you will find an example of what can be considered temperature fluctuations throughout the different phases of a cycle.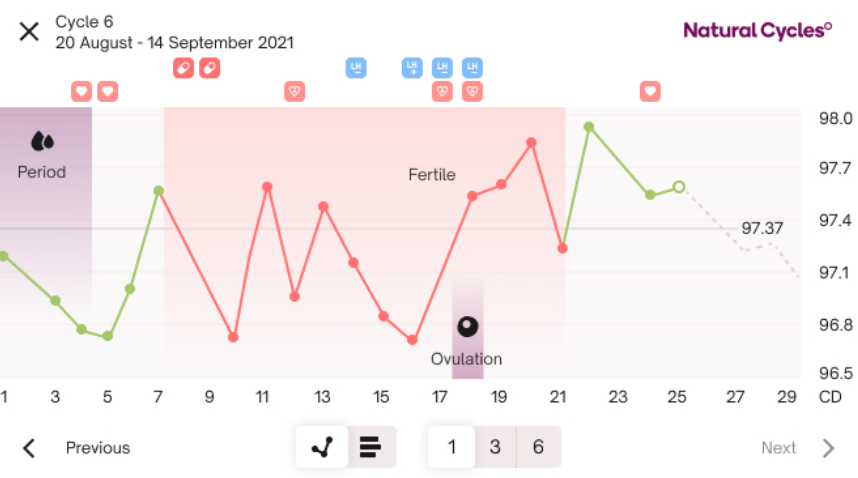 Looking at the data for this user, we can see that the temperatures on Cycle Days 7, 11, and 13 (follicular phase) rose above the cover line — this would be considered temperature fluctuations.
On Cycle Day 21 (luteal phase), the temperature suddenly dropped below the cover line — this would also be considered a temperature fluctuation because this temperature is unusual for this phase of the cycle.