Why was my temperature excluded by the algorithm?
If the NC° algorithm detects that the temperature trend from the Oura Ring is too high or low to be biologically correct for where you are in your cycle, if it deviates too much from your baseline temperature, or if you have not slept enough, your temperature will be excluded automatically by the NC° algorithm.
In the app, your temperature will have a strikethrough in the Add Data page, and you will see the text 'Excluded by the algorithm' written below.

How to exclude temperatures when using the Oura Ring
Certain circumstances may affect your temperature. This can lead to varying temperatures and make it harder for the algorithm to track your cycle.
To help our algorithm learn about your cycle and find your ovulation, use the "Exclude temperature" function in the app if you:
Feel sick (by clicking on

Sick

in the

Add Data

page)

Feel hungover (by clicking on Hungover in the Add Data page)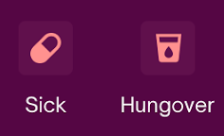 Medication can also affect your temperature. If you take regular medication or anti-pyretics (fever reducing substances), it's worth consulting with your doctor to discover its impact on your basal body temperature.
Natural Cycles is not to be used with any hormonal medication which may impact your temperature.
If your doctor confirms any medication you're taking impacts your body temperature, we recommend that you mark your temperature as 'Sick' ', in your Add Data page, until you finish using the medication.
How excluding a temperature affects my data
An excluded temperature is not taken into account by the algorithm when calculating your fertility status.
Excluding temperatures does not affect Natural Cycles' effectiveness as birth control. Logging less temperature data means that you will experience a greater amount of red days, where protection is needed, and this may reduce your satisfaction with Natural Cycles. Learn more here.
Keep in mind that the more non-excluded temperatures you enter, the better your green day ratio is likely to be. For that reason, we recommend adding at least 5 valid temperatures per week.
Why does it say 'Not enough data'?
If there's no temperature in your Add Data page after you've synced the Natural Cycles app with your Oura Ring, it may be that there wasn't enough data available. If that happens, you will see the text 'Not enough data' below the temperature section. You will see this text if your Oura Ring didn't collect enough temperature and/or heart rate data during the night.
This may happen if you didn't wear the ring during the night, if your ring was not positioned correctly on your finger, or if the ring ran out of battery.
For optimal use, we recommend trying to get at least 3 hours of consecutive sleep; otherwise, there won't be enough data to extract a temperature that day.