There are different ways you can track your temperature while using Natural Cycles. In this article, you'll find the instructions for measuring with a basal thermometer.
If you are using Natural Cycles with an Oura Ring, please refer to this article, and if you're using an Apple Watch, please refer to this article.
What kind of thermometer can I use with Natural Cycles?
The Natural Cycles app can only be used with an integrated measuring device. This includes the Oura Ring, the Apple Watch, as well as basal thermometers. At this time you cannot use any other wearable device with Natural Cycles.
If you use Natural Cycles with a thermometer, this needs to be a basal thermometer (and not a regular fever thermometer). You can use a basal thermometer from Natural Cycles or any other brand.
A basal thermometer measures with a higher precision since it produces a measurement with two decimal places, while a regular fever thermometer only produces a measurement with one decimal place.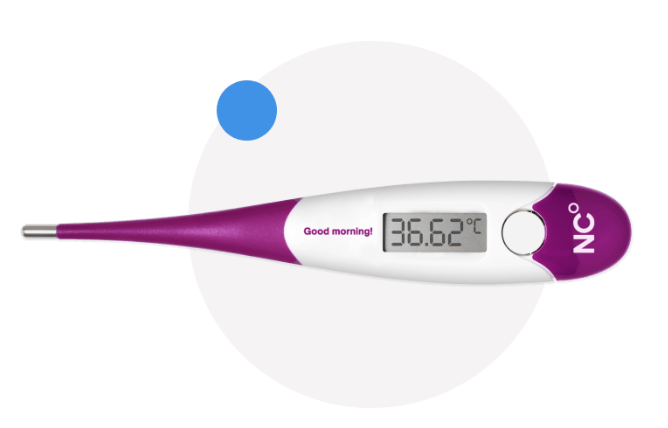 When should I measure?
You should always measure once per day, first thing in the morning, right after waking up (before sitting up, drinking water, snoozing, or getting out of bed).
The basal body temperature is your resting temperature, and it is lowest when you sleep.
Your temperature changes with everything that you do throughout the day, which is why you need to measure your basal temperature as soon as you wake up as this is the time when your temperature is the most stable.
We recommend keeping the thermometer somewhere that is easily accessible from your bed and does not require you to move too much to reach it (ex: on your bedside table).
Should I measure every day?
To get the most out of using the app, we recommend that you measure at least five times per week at roughly the same time every morning, (within a ± 2h window of your usual waking time).
However, if you measure less than five times a week, it's important to know that Natural Cycles' effectiveness as birth control will not be affected. Logging less temperature data means that you may experience a greater amount of red days, where protection is needed, and this may reduce your satisfaction with using Natural Cycles. Learn more here.
If you sleep in later than 2 hours after your usual waking time, we suggest that you still measure to stay in the habit, but that you exclude the temperature for that day marking it as "slept differently" in the app. You should also exclude your temperature if you feel sick or hungover and you can select these reasons in the app should you ever need to exclude a temperature for these reasons. Excluding a temperature means that the algorithm doesn't take it into account in its calculations. You can learn more about excluded temperatures here.
Sometimes life means a straightforward measuring routine is not possible. If you work shifts, or have interrupted sleep due to pets, kids, etc. please continue reading here for how to best measure based on your schedule.
Measuring as often as possible will help the app get to know your unique cycle. Although the effectiveness of Natural Cycles as a birth control method will not be affected if you measure less, the more temperature data the algorithm has for your cycles, the more precise the algorithm will be in detecting your fertile window, which could mean more green days if your cycle data indicate they are safe to give.
How should I measure?
Please follow the relevant link to access the measuring instructions for your Natural Cycles thermometer:
If you are measuring with a thermometer from a different brand, please make sure to follow the measuring instructions from the manufacturer.