How does Natural Cycles determine my pregnancy due date?
Since Natural Cycles is able to confirm your ovulation, it means the app can tell how far along you are in the pregnancy, while also calculating a predicted due date that's based on your conception day.
Natural Cycles counts your baby's due date in a different way to how your midwife or doctor may count it. The app calculates from ovulation, not from the first day of your last period, which is how the healthcare system traditionally measures pregnancy and calculates due dates. This means your due date given by Natural Cycles may be a little different from the one given by a healthcare professional.
How can I edit my due date?
If there isn't enough temperature data around your ovulation day or your temperatures have fluctuated too much, you may want to enter your due date manually.
You can do this by going to the menu in the top left corner of the app > Settings > Due date.
You can also edit your due date from the Today page, by clicking on 'See more' under your due date, and then 'Edit my due date'.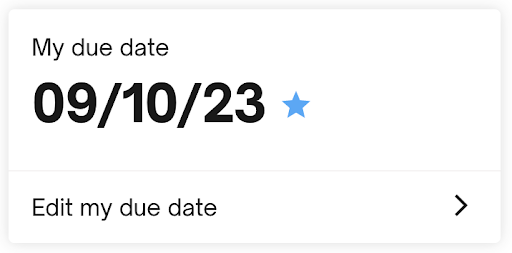 If the app is not allowing you to enter a specific due date, it may be that the date you are trying to log conflicts with some data that the app has on you. If that is the case, please contact our support team with the due date, as well as the date of your last period and the date you had a positive pregnancy test and we will adjust this for you.
For more information on how Natural Cycles calculates pregnancy weeks, please have a look at this article.