Automatic Renewal and Cancellation
Your Natural Cycles subscription will renew automatically at the end of the paid period, and you will see the date within your app at all times in your Profile tab. If you have a Yearly subscription, you will also receive an email approximately 30 days before the renewal date, reminding you about the upcoming renewal date. If you do not want the subscription to renew, you have to cancel the auto-renewal at least 24 hours before the end of the current subscription period.
If you have paid your Natural Cycles subscription via PayPal or credit card, you can cancel your subscription by following these steps:
Open the Natural Cycles app or the Natural Cycles

web app

.

Log in to your Natural Cycles account.

Tap on the 'Profile' tab in the bottom menu

Tap on 'Your subscription.'

Tap on the 'Cancel Subscription' button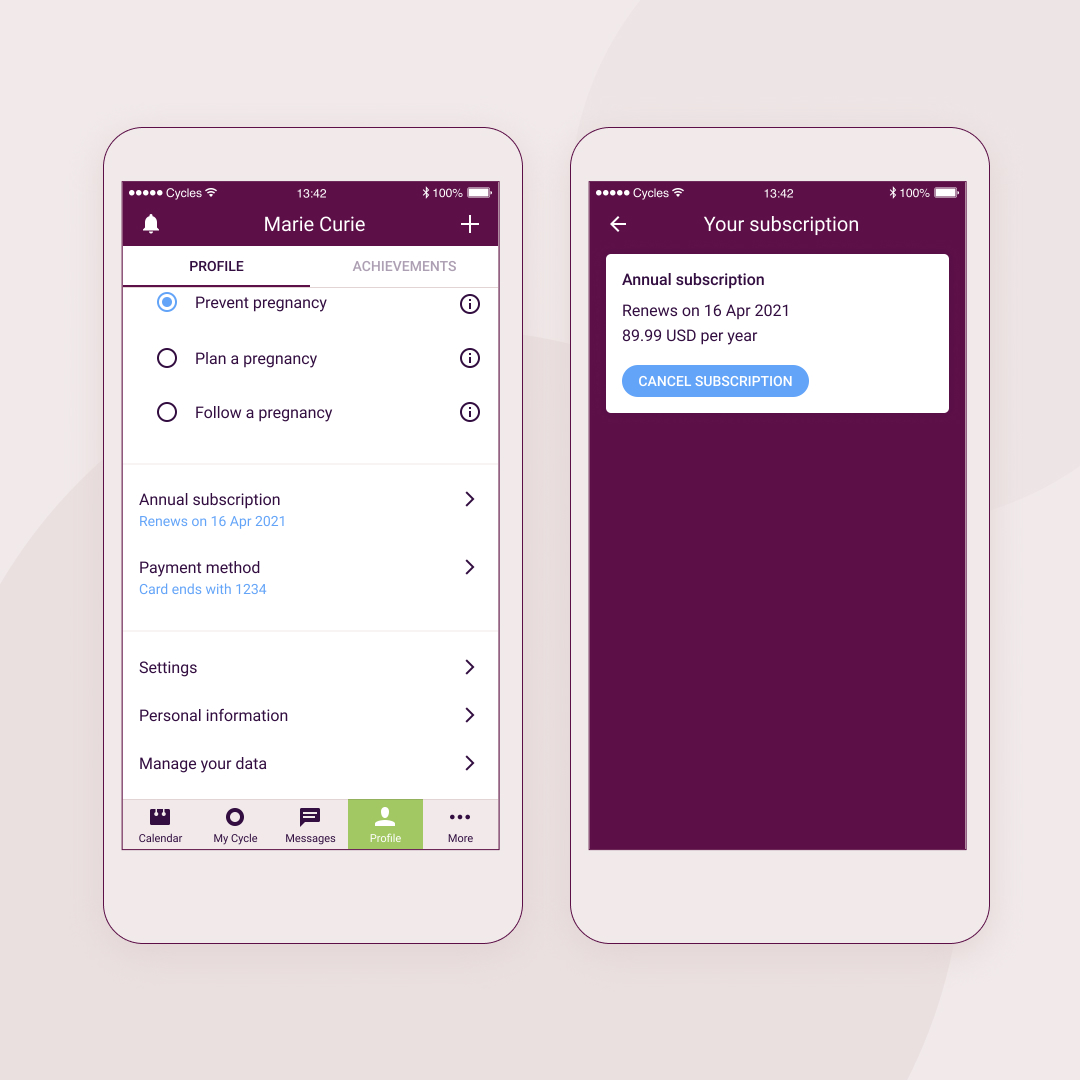 You can re-activate your subscription anytime under the same menu; all your data will be saved. You can continue adding data for the remainder of your paid period - you can see the date your subscription ends on your profile in the app.
Purchases via your Apple ID
If you have purchased your Natural Cycles subscription via your Apple ID (In-App Purchases), you must cancel it in your phone settings. You will not be able to see the date of renewal within your app but must refer to your phone settings.
Natural Cycles will also send a reminder email if you have paid with your Apple ID. You will receive this reminder email even if you have already canceled your subscription via Apple. If that is the case, you may disregard the email.
Read more about how to cancel subscriptions billed through Apple here, where you can also contact Apple if you need any help regarding your subscription. All subscriptions created via Apple will need to go through Apple.
Refund policy
Please note that Natural Cycles does not offer a right of return/refund on the subscription. You can cancel your subscription at any time (at least 24 hours before its expiry), but there will be no refund of any subscription fees already paid. You will have access to your account through your paid period.