Cervical mucus is a substance that forms in the cervix and is discharged through the vagina; it is also known as cervical fluid or discharge. The amount and consistency of cervical mucus changes throughout the menstrual cycle, as it's closely linked to fertility.
There are several indicators in your body that signal what stage of your cycle you're in. The two main indicators taken into consideration by Natural Cycles are basal body temperature and LH (Luteinizing Hormone) when calculating your fertile window and ovulation. You can read more about this here.
In the Natural Cycles app, you can track these indicators, along with cervical mucus.
While cervical mucus can be a fertility indicator, our algorithm doesn't take it into account when calculating your fertility. Your temperature is the main indicator for detecting ovulation. However, tracking cervical mucus in the app is an excellent way for you to learn more about your unique cycle.
It may take 3 to 4 months of daily checks to see ovulation patterns. It's best to start learning how to track cervical mucus with the help of an expert, like a doctor, nurse, or a family planning counselor, because it can be hard to learn on your own as all our bodies are different.
Adding your Cervical Mucus into the app
The amount of cervical mucus can be added into the app in the 'Add Data' page screen by choosing between None, Light, Medium, or Heavy. You can also enter the consistency of your cervical fluids by selecting Sticky, Creamy, Eggwhite, or Watery. As shown in the screenshot below: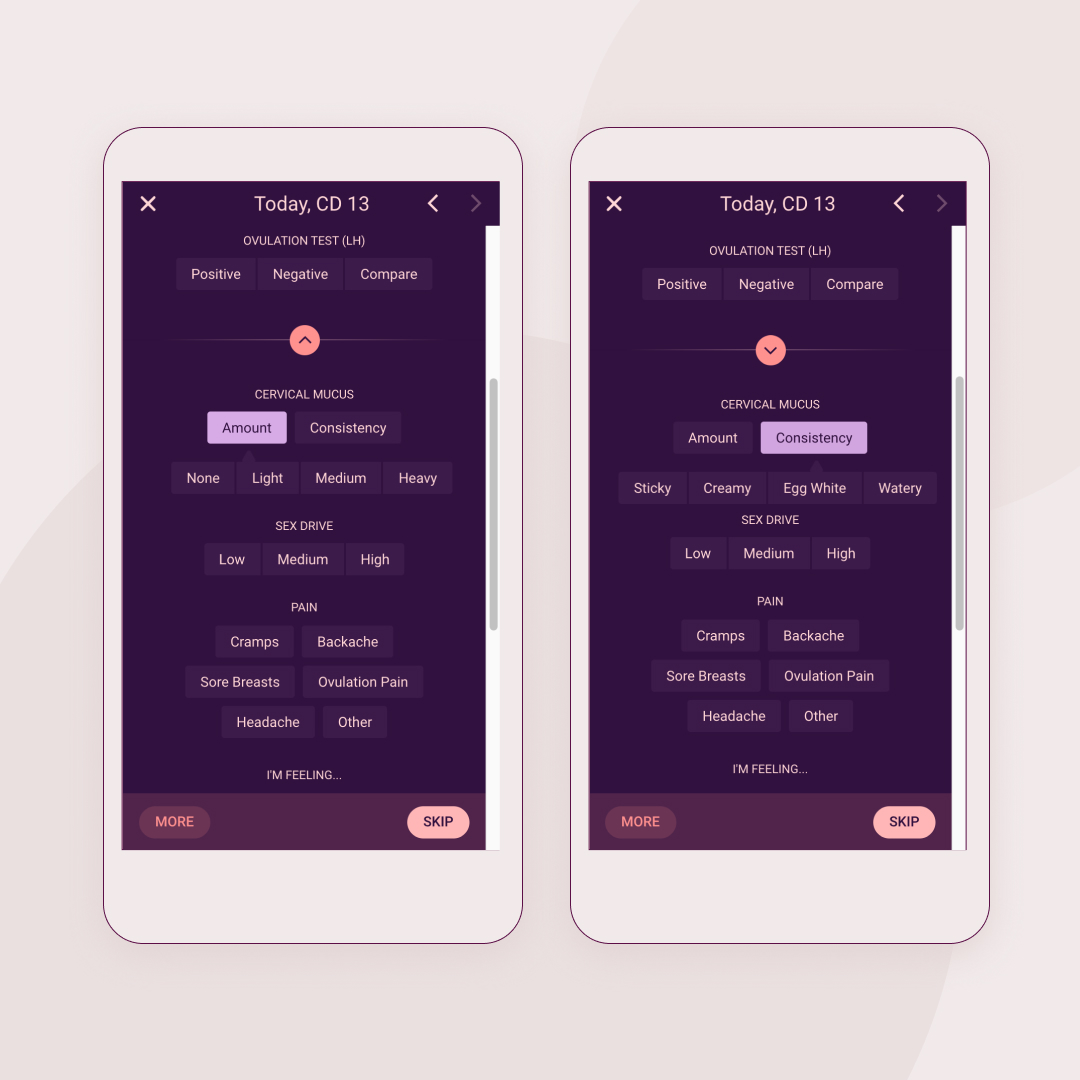 How cervical mucus changes throughout your cycle
You can check your cervical mucus by inserting a clean finger into your vagina and reaching toward your cervix or looking at the toilet paper after you wipe from front to back.
Right after your period, you will usually have no cervical mucus. If you do experience cervical fluid at the start of your cycle, it's likely to be a small amount as you are very unlikely to be fertile.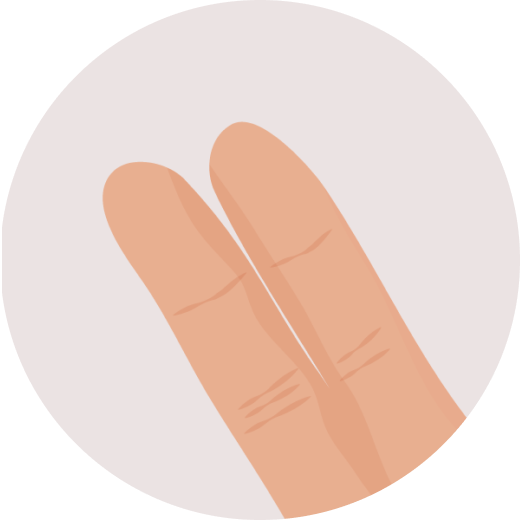 A little later in the cycle, you may have sticky cervical mucus. In this phase, cervical mucus has a sticky consistency and is cloudy or white in color, and has a glue-like appearance. At this point fertility is low.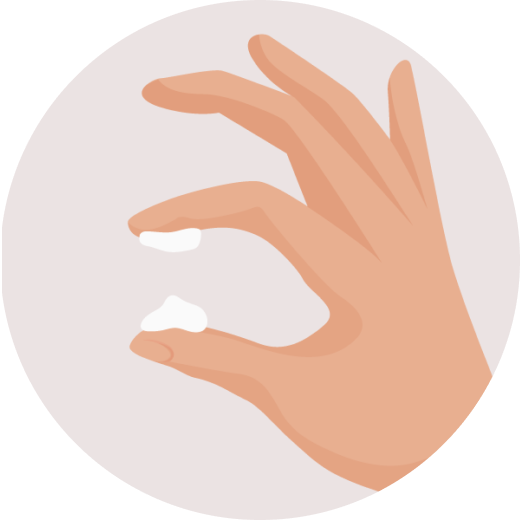 As your fertile window approaches, you may have creamy cervical mucus. In this later phase, cervical mucus becomes creamy. It's also cloudy in color and maybe more plentiful and thicker than in earlier stages of the cycle.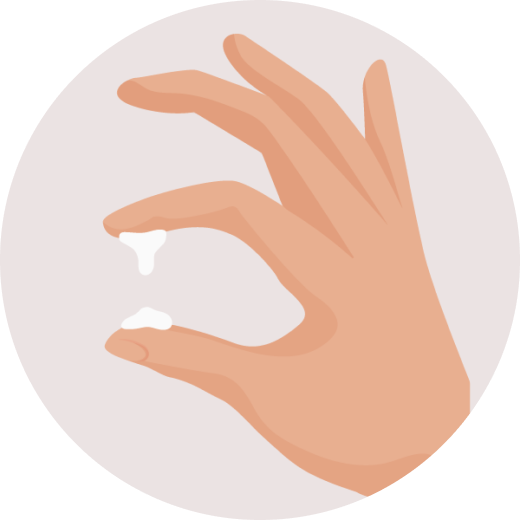 Around ovulation day, at peak fertility, you may have cervical mucus that is egg white in consistency or watery in appearance. Cervical mucus in this stage is clear in color and very stretchy with higher water content. This is sometimes called egg white cervical mucus. An even higher water content can further dilute cervical mucus so that it can sometimes be categorized as watery.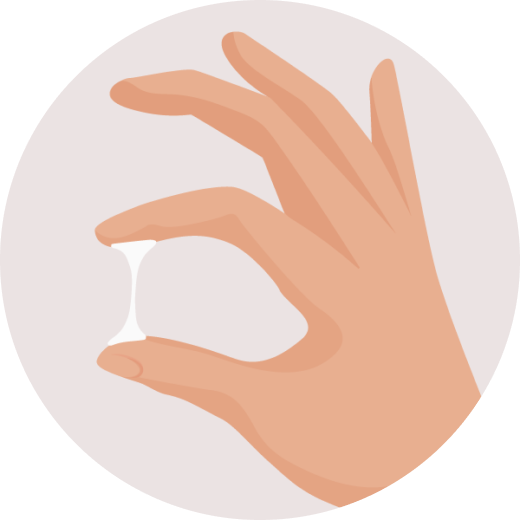 After ovulation, you may have less cervical mucus as it dries up again as the fertile window closes. The fluid is more sticky, with less water content than before ovulation - in some cases, there will be no cervical mucus.
Below are some reasons that may change how your cervical mucus appears:
Medications

Feminine hygiene products

Douching

Sexual intercourse

Breastfeeding

Having a pelvic exam in which lubrication is used
Keeping in mind that due to the factors mentioned above, it is best to keep measuring your Basal Body Temperature (BBT) with Natural Cycles to know where you are in your cycle, as your temperature is the main indicator for detecting ovulation.
This information is provided for educational purposes only and is not intended to replace the advice of your healthcare professional. Please consult your healthcare professional if you are unsure about how to track cervical mucus.