Some things to keep in mind before adding or changing past data
We recommend that you try to log your data each day, and that you do not go back to previous days to adjust data that the algorithm uses to calculate your fertility status unless necessary — this includes temperatures (as well as excluding past temperatures), period data, LH test results, emergency contraception and pregnancy test results. The algorithm will take the new data into account and re-calculate your fertility status based on the new information. This means that if you change data on days in the past, this can cause your past red and green days to change.
Data that is not used by the algorithm (all the other trackers) will not affect your fertility status and those can be added or changed retroactively. You can read more about the data that the algorithm uses in this article.
How to log data in the past
If you would like to add or change data for previous days, you can do this by going to the Calendar view and clicking on the day that you would like to edit to open the Add data page (by clicking on Edit). Log your data there and click on the Save button to save it.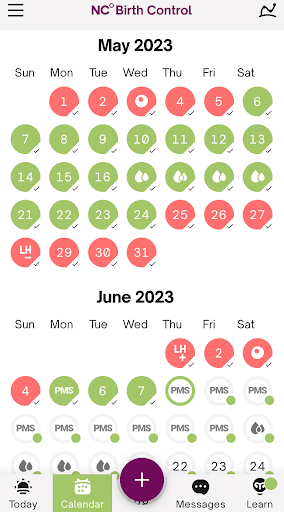 If you need to add data for several days in a row, you can swipe left or right or click the arrows in the top right corner of the Add data page — this will automatically save your data.
The very first day with logged data will be the earliest day in the Calendar view that has a fertility status (red or green). The three months before this day will be displayed in a light gray color. If you click on a gray day and add data for that day, its fertility status will be updated.
Can I add previous data from another app?
If you have an iPhone and have previously been using a fertility or period tracker, you can add your past data (temperatures, period, etc.) to the Natural Cycles app by syncing your data from Apple Health. To do this, go to the menu in the top left corner of your screen > Settings > Integrations > Sync with Apple Health.
Please bear in mind that it is not possible to unsync the data that you import from Apple Health. If you have used hormonal birth control before Natural Cycles, you will not be able to sync any data from the time when you were using hormones. Hormonal birth control generally works to inhibit ovulation and affect your body temperature, making it impossible to combine with Natural Cycles.