During your menstrual cycle, your body goes through two phases separated by your ovulation day. Natural Cycles determines these two phases with the help of your basal body temperature, which you enter into the app.
Natural Cycles makes a prediction for the upcoming ovulation day based on your historical data, such as average ovulation day, cycle length, etc. Every cycle is unique; therefore, Natural Cycles will never assume that your ovulation will occur on the same day as previous cycles. When the temperature has risen enough, it will confirm ovulation from the temperature curve.
If you are past the predicted ovulation day, you will not see the ovulation symbol until the algorithm has confirmed ovulation. Testing for LH when the app sends you LH recommendations will help the algorithm to confirm ovulation faster.
The phases and their temperatures
The follicular phase is the first phase of your cycle; during this phase, your body temperature is lower due to the higher estrogen and lower progesterone levels. Your fertile window is in the follicular phase, and these are the six days per cycle where intercourse could lead to a pregnancy. The follicular phase ends when ovulation occurs. On average, ovulation occurs on cycle day 17 for our users.
Ovulation is when your ovary releases an egg. The egg travels through your fallopian tubes, where it is possible to be fertilized by sperm waiting there. The algorithm takes into consideration that sperm can survive up to 5 days in the female body. When ovulation has occurred, the body enters the luteal phase. In the luteal phase, progesterone is released. This hormone aids in the development of the fetus if conception occurs.
During the luteal phase, the temperature increases. This temperature increase can be seen on the graph in the app. Progesterone leads to increased basal body temperature - on average, a rise of 0.3 °C.
Based on your temperatures and confirmed ovulation, the algorithm will confirm that you are no longer fertile, and a green circle with 'Not Fertile' will be shown in your daily status. The luteal phase is consistent in length; this means your menstruation will most likely occur after the same amount of days after ovulation in each cycle. The luteal phase length is also valuable information that the algorithm uses to determine the ovulation day if the temperatures are fluctuating. The luteal phase ends as menstruation begins, which will also start a new cycle.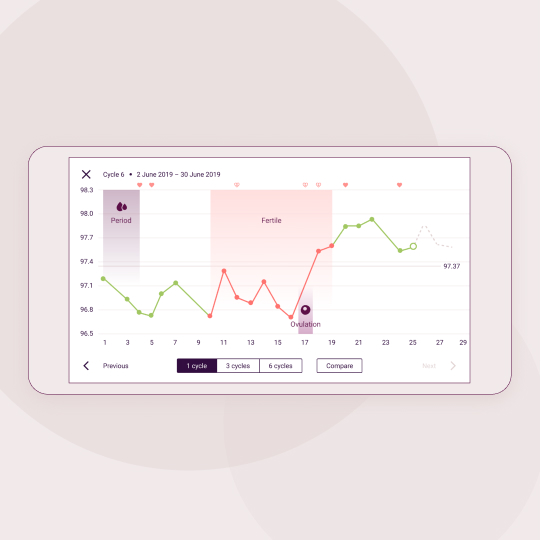 Here we can see the temperature increase that occurs after ovulation. This increase in temperature is what the algorithm is searching for to confirm that ovulation has occurred. Usually, the algorithm requires 2-3 higher values before ovulation can be confirmed. If you see the egg symbol disappear – keep measuring, and the algorithm will soon be able to place your ovulation.