Note: this article gives instructions on excluding temperatures when you are using Natural Cycles with a basal thermometer. If you are using Natural Cycles with a wearable device, please refer to the article for your device instead: Oura / Apple Watch.
Why should I exclude a temperature?
Certain circumstances may affect your basal temperature. This can lead to variating temperatures and make it harder for the algorithm to track your cycle. To help our algorithm learn about your cycle and find your ovulation, use the "Exclude temperature" function in the app if you:
Feel hungover

Slept differently (>2 hours more/less than usual)

Feel sick
Medication can also affect your temperature. If you take regular medication or anti-pyretics (fever reducing substances), it's worth consulting with your doctor to discover its impact on your basal body temperature.
An excluded temperature is not taken into account by the algorithm when calculating your fertility status.
Keep in mind that the more non-excluded temperatures you enter, the better your green day ratio is likely to be. For that reason, we recommend adding at least 5 valid temperatures per week.
If you sometimes have to exclude your temperature, Natural Cycles' effectiveness as a birth control will not be affected. Logging less temperature data means that you will experience a greater amount of red days, where protection is needed, and this may reduce your satisfaction with Natural Cycles. Learn more here.
How do I exclude a temperature?
Once you've logged your temperature for the day, you can exclude it by clicking on the relevant icons that are displayed right below (Sick, Slept differently, Hungover).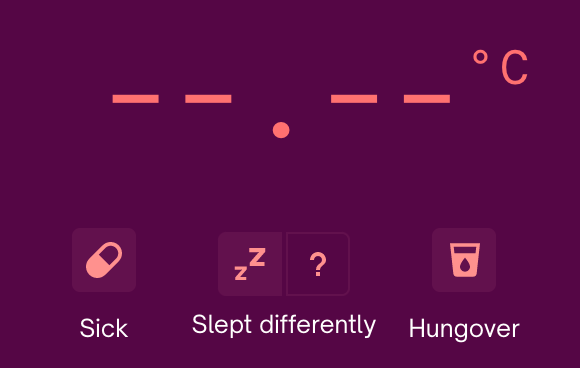 Your excluded temperature will then show with a strikethrough, to indicate that the algorithm is not taking it into account.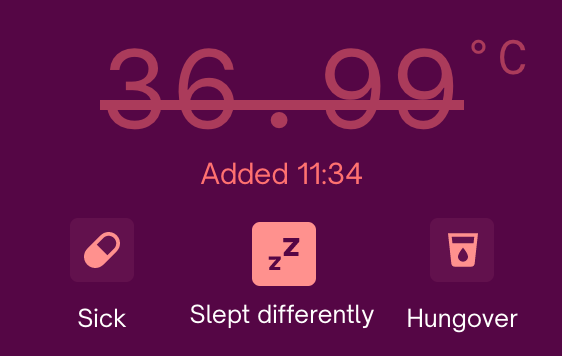 When should I exclude my temperature due to being sick?
If you are feeling sick, have an infection, and/or have difficulty sleeping due to this, then you should exclude your temperature until you have recovered.
It is always better to exclude a temperature than to add a temperature that you are not certain about when you are feeling sick, even if it means excluding your temperature for several days in a row. You may get more red days this cycle, but the algorithm will eventually readjust.
When should I exclude my temperature due to sleeping differently?
In the app, you can click on the question mark ('?') next to the Slept differently icon. You will be asked a few questions about how you slept that night, and this should help you understand if you need to exclude your temperature or not.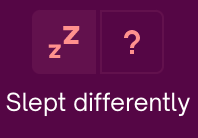 Generally speaking, if the night was unusual for you, you should exclude your temperature.
If you believe you've slept differently and are not sure if you should exclude your temperature, have a look at this article.
When should I exclude my temperature due to being hungover?
When it comes to alcohol consumption, it is difficult to determine what amount will impact your temperature. Our Instructions for Use state that feeling hungover may affect your basal temperature and could result in inaccurate detection of ovulation and fertility status.
If you feel hungover, we encourage you to measure your temperature and click on Hungover to exclude your temperature that day.
Can the app automatically exclude a temperature?
The app will detect very unusual temperatures for the cycle phase that you are in, and it will automatically exclude such temperatures for you.
You will notice this as the temperature will have a strikethrough, accompanied by the 'A' icon (A = Algorithm).