As a new Natural Cycles user, measuring your temperature first thing in the morning is probably new to you, so getting into the habit might take you some time.
Don't worry if you are struggling at first — that is completely normal.
We have gathered a few tips to keep you on track with measuring and get into the habit quickly. You will soon see that it will become second nature to you, much like brushing your teeth in the morning.
Tip 1: Activate your Reminders in the app.
You can activate reminders in the app to help you get in the habit of measuring!
The evening reminder will remind you to place your thermometer by the bed before going to bed.
The morning reminder will remind you to measure. You will receive a silent push notification, so once you check your phone in the morning, it can help remind you to measure before anything else.
To activate the reminders:
Go to your phone settings and allow Natural Cycles to send you push notifications (otherwise, the reminders will not work).

Go to the menu in the top left corner of the Natural Cycles app >

Settings > Reminders

, and select the reminders you want to receive and at which times you want them to be sent. You can change these settings at any time.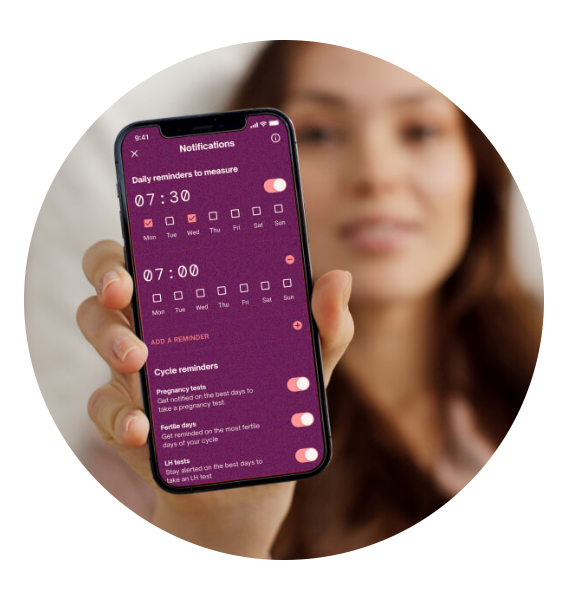 Tip 2: Place your thermometer on your phone before going to bed.
Placing the thermometer on your phone will ensure you do not miss the thermometer when you wake up and reach for your phone.
Some users like to tie their phone and thermometer together with a scrunchy to ensure there is no chance of missing the thermometer when reaching for the phone!
Tip 3: Set a labeled phone alarm.
Labeling your phone alarm to "Measure!" or "Thermometer!" can be an excellent idea and a small thing that may go a long way in adding more temperatures into the app.
It is also good to remember that if you measure only some days, Natural Cycles' effectiveness as a birth control will not be affected. Logging less temperature data means that you may experience more Red Days, where protection is needed, which may reduce your satisfaction with Natural Cycles. Learn more here.
Note: If you're struggling with your measuring routine, know that you now have the option to use Natural Cycles with one of our approved wearable devices (the Oura Ring and the Apple Watch). When using Natural Cycles with a wearable device, your temperature data gets measured overnight while you sleep. This means that you no longer need to remember to take your temperature before getting out of bed in the morning! Learn more about using Natural Cycles with the Oura Ring here, and with the Apple Watch here.