When you create an account with Natural Cycles, you will be asked to register an email address and select a password.
You can see which email address you have registered on your account by going to the top menu > My account > Email. There, you can also confirm your email address and change it if needed.
If you are not able to log into your account, you can also find your registered email address on the invoice that was sent to you after your purchase.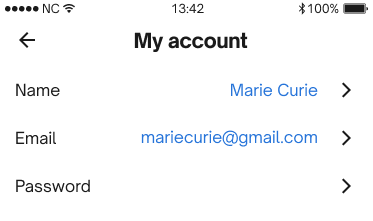 I am not seeing my email address in the Natural Cycles app
If you select Sign up with Apple when you register your NC° account, a unique, random email address is created, which can only be used for Natural Cycles and can't be reused for other apps or services. You can read more about this here.
This email address is unique to you and follows this format:
<unique-alphanumeric-string>@privaterelay.appleid.com
While you will still get all emails from us sent to your personal email, your personal email address will stay private and will not be shared with the app or website developer. This explains why your private email address will not be visible in the Natural Cycles app.
If you need to reference this Apple email address, you can find it by going to the Settings app on your iPhone or iPad > tap your name > Password & Security > Apps Using Your Apple ID > Natural Cycles.