You should only measure once per day – as soon as you wake up in the morning – and this is the temperature that you should log in to the app.
However, if you have an irregular sleeping schedule where you wake up several times during the night, it can be harder to know when you should measure. Our general recommendation if you wake up often during the night and stay awake for some time is to measure after your longest stretch of sleep. We write a bit more about measuring if you wake up during the night here.
If your sleep changes from night to night and you are unsure of when to measure, you might find yourself measuring several times during the same night, and then choosing which temperature to log in the morning, once you know when your longest stretch of sleep was.
Since the NC° Thermometer Gen2 stores these measurements, once you go to sync your thermometer with the app, a popup will appear that will let you know that there are multiple temperatures available for that day. The app will automatically select the first measurement to be added to your Add data page.
If you would like to override this, you can do so by unselecting the first temperature value and selecting the one that you would like to use instead. You will be able to see the time each measurement was taken.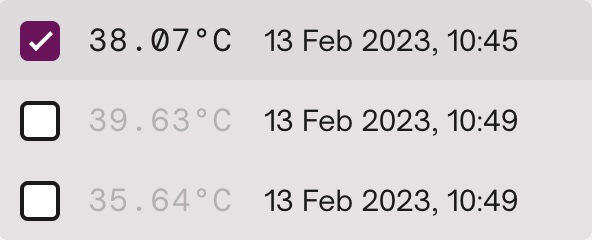 For more guidance on when and how to measure, please open the app and go to the Learn Tab > Guides > Measuring.
If you need any help with when to measure based on your schedule, we write about this in this article, or feel free to reach out to our Support Team via this link.