If you do not have the option to log a Period and your bleeding options are Withdrawal Bleeding and Spotting, then you've indicated in the app* that you've recently quit hormonal birth control – this article is for you!
What is withdrawal bleeding, and why is it not the same as a period?
The bleeding you may experience on different types of hormonal birth control is not a menstrual bleed (period) – this bleeding is called withdrawal bleeding. Although this may seem like a period, it is important to remember that withdrawal bleeding is not the same as a period.
A period is triggered by certain hormones that cause the lining of the uterus to shed if the implantation of a fertilized egg cell hasn't happened at the end of the menstrual cycle. Because hormonal birth control usually stops ovulation, you technically don't experience a menstrual cycle and the bleeding that you get is not considered a period. It is a type of spotting called withdrawal bleeding.
It is important to note that the first bleed that you experience after quitting hormonal birth control is also a withdrawal bleed,because that bleeding was not triggered by ovulation.
If you have been on hormonal birth control for years and thought you had periods, you are not alone. Not to worry – we are here to bridge that knowledge gap! To learn more about withdrawal bleeding, you can check out our blog post, What is Withdrawal Bleeding?
How to log withdrawal bleeding in the app
If you have selected that you recently quit hormonal birth control and that you have not bled since when setting up your account, you will have the option to log your first bleed as Withdrawal bleeding in your Add Data page.*

Note that you will not have the option to log a period at this stage; your two options for bleeding are Withdrawal bleeding and Spotting.
Spotting is very light bleeding, most often just brown or pink fluids or a few drops of blood that you may see when visiting the bathroom or on the toilet paper.
Once you do get your first bleed after quitting hormonal birth control, you can select Withdrawal Bleeding in your Add Data page. Please ensure to select Withdrawal Bleeding for the day you get it, no matter which hour during the day you got it. Remember to keep adding it for every day you bleed, and then stop adding it when it ends. You can also select the flow of the bleed each day by selecting Light, Medium, and Heavy.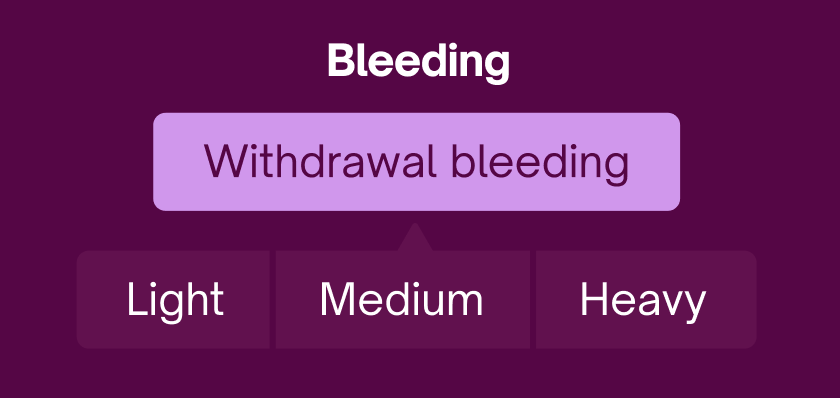 Once you have completed your withdrawal bleed, you will be able to select Period for your next bleed (the Withdrawal bleeding option will be replaced with Period seven days after your last logged Withdrawal bleeding day).
*If you recently signed up and need to re-answer your setup questions, you can do so by opening your app > tap the menu in the top left corner of the screen > My profile > Answer setup questions again.