Why was my temperature excluded by the algorithm?
There will be times when the algorithm concludes that your reading from a particular night is to be excluded or that there is not enough data.
If the temperature trend from the Oura Ring is detected by the NC° algorithm to be too high or low to be biologically correct for where you are in your cycle, or if you have not slept enough, your temperature will be excluded.
If that happens, your temperature will have a strike through it in the Add Data page, and you will see the text 'Excluded by the algorithm' written below.
For optimal use, we recommend trying to get at least 3 hours of consecutive sleep; otherwise, your temperature data will be excluded.
How to exclude Oura temperature trends
Certain circumstances may affect your data and make it harder for the NC algorithm to track your cycle. To help the algorithm learn about your cycle and accurately identify your ovulation, please remember to exclude your temperature data if you:
Feel sick (by clicking on

Sick

in the

Add Data

page)

Feel hungover (by clicking on

Hungover

in the

Add Data

page)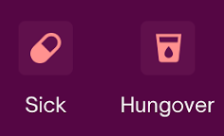 You should only exclude your temperature variation data if you feel that something was out of the ordinary for you and you feel differently in the morning because of it.

An excluded temperature will not be taken into consideration when calculating your fertility status. Learn more about excluded temperatures here.
Why does it say 'Not enough data'?
If there is no temperature in your Add Data page after you have synced the Natural Cycles App with an Oura Ring, it may be that there was not enough data collected available. If that happens, you will see the text 'Not enough data' below the temperature section.
You will see this text if your Oura Ring didn't collect enough temperature and/or heart rate data during the night. This may happen if you didn't wear the ring during the night, if your ring was not positioned correctly on your finger, or if the ring ran out of battery.