Thanks to Natural Cycles' unique algorithm, the app can detect a possible pregnancy.
After ovulation, your temperature rises due to the release of the hormone progesterone. If conception has occurred, progesterone continues to be produced to help with the development of the fetus. This causes the temperature to remain elevated after the expected period.
If that happens to you, Natural Cycles recognizes that conception has possibly occurred and will prompt you to take a pregnancy test for confirmation (whether you are using NC° Plan Pregnancy or NC° Birth Control).
Once you indicate a positive pregnancy test, your temperatures after ovulation will change to blue.
Example of a graph showing when you have entered a positive pregnancy test: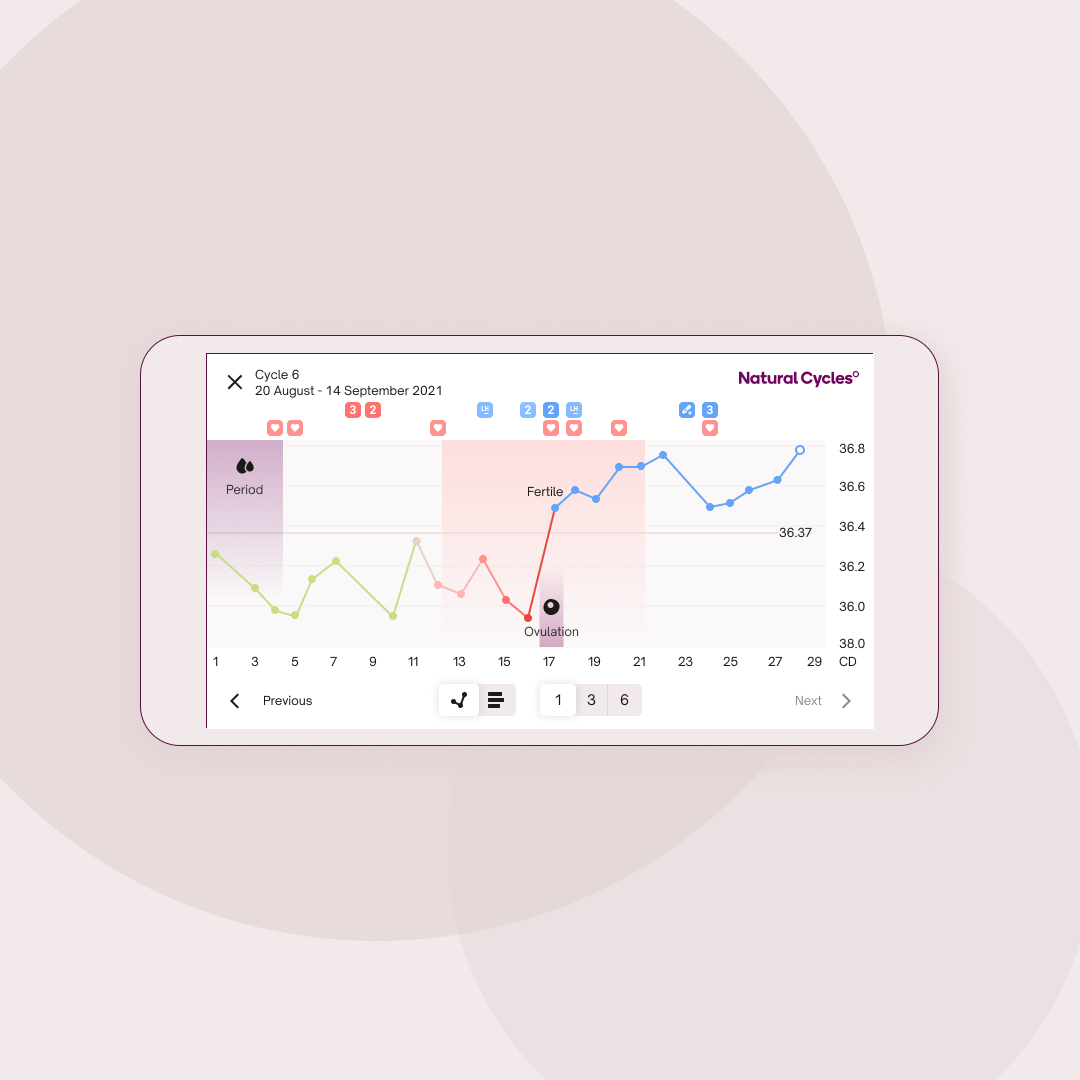 In the picture above, we see how the graph looks for an NC° Plan Pregnancy user who has become pregnant. Ovulation is marked on CD 17, and the days after have changed to blue – which is the color for pregnancy in the app. The first day after ovulation marks the start of a new cycle for pregnant users (that day will show as CD 1).
Once you enter a positive pregnancy test, Natural Cycles will go into the "NC° Follow Pregnancy" in the app. Instead of the daily fertility status, you will see what pregnancy week you are in, a countdown to how many days you have left in your pregnancy, conception, and due date.
Below you can see an NC° Follow Pregnancy screen:
Implantation bleeding
Some may experience implantation bleeding, which can happen roughly 10-14 days after ovulation, around the same time as your period would normally be due. Implantation bleeding is often a lighter spotting than a menstrual flow and can be more pink or brown in color. Head over to our blog post to read more about implantation.
To find out how Natural Cycles calculates pregnancy weeks, click here.