Natural Cycles is a regulated medical device for both birth control and pregnancy planning. It is cleared by the FDA in the US, CE marked in Europe, listed in the ARTG in Australia, and listed in the SMDR in Singapore.
This article will cover the following sections describing how Natural Cycles works:
Overview
Natural Cycles is an app powered by an algorithm that determines your fertility status based on body temperature. Just measure, add your temperature to the app, and let our algorithm do the work.
As birth control, Natural Cycles is 93% effective with typical use and 98% effective with perfect use, and it is effective from the first day of use.
By measuring and logging your body temperature in the morning as outlined in our instructions for use, the algorithm gets to know your unique menstrual cycle. Based on your individual data, the app provides you with a daily fertility status.
For NC° Birth Control users, the fertility status is displayed in either red or green, where red indicates the days where you may be fertile and should use protection or abstain from intercourse. When your daily status is green, you are not fertile and don't need to use protection.
For NC° Plan Pregnancy users, the fertility status is also displayed as red or green with red days displayed as a color scale ranging from light pink to dark red on the fertile days. Darker red indicates your most fertile days, green is displayed non-fertile days, and brown on days where more data is needed.
When you start using Natural Cycles, it can take 1-3 cycles for the algorithm to get to know your unique cycle, resulting in a greater number of red days for NC° Birth Control users and brown days for NC° Plan Pregnancy users.
The menstrual cycle
The menstrual cycle consists of two phases: the preovulatory (follicular) phase, and the postovulatory (luteal) phase. Each person's cycle varies in length, and a new cycle begins with the first day of menstrual bleeding.
Everyone has a unique menstrual cycle pattern. For example, the cycle length, the day ovulation occurs, the average temperature in the follicular and luteal phases, how much the temperature increases, and the overall shape of the temperature evolution throughout the cycle are all parameters that vary from person to person.
The follicular phase
In this phase, estrogen levels are high, and there is an increase in luteinizing hormone (LH) right before ovulation. During the follicular phase, the body temperature remains low compared to the second phase of the menstrual cycle. Once ovulation occurs, your body temperature rises, indicating the start of the second phase of the menstrual cycle (the luteal phase). The average follicular phase temperature for our Cyclers is 36.23°C (97.21 °F).
The ovulation day
Ovulation is when an egg (oocyte) is released from the ovaries and can be fertilized by sperm (however, the fertile window is six days due to sperm survival – read on to learn more about the fertile window). Two well-known biological indicators of ovulation are a temperature rise of 0.25-0.45 °C (0.4-0.8 °F) after ovulation and a rise in luteinizing hormone (LH) roughly 48 hours before ovulation. The average ovulation day for our Cyclers is CD 18.
The luteal phase
In this phase, the progesterone levels in the body increase. The rise in progesterone levels causes the body temperature to rise and remain high until the next cycle begins with your next period. The average luteal phase temperature for our Cyclers is 36.58°C (97.84 °F).
The fertile window
The fertile window is six days in the cycle. It begins five days before ovulation, as sperm can survive up to five days in the body under the right conditions, and ends on ovulation day. When the egg is released on ovulation day, it can only survive for a maximum of 24 hours. Only during these six days is it possible to get pregnant through unprotected sexual intercourse.
Below is an example of what a graph may look like for an NC° Birth Control user. This in-progress cycle shows the fertile window surrounding ovulation. The fertile window for this cycle is ten days long. This is because NC° Birth Control users will likely get more than six red days per cycle to account for cycle and temperature irregularities. Your ovulation day can vary by a number of days from cycle to cycle even if you have a generally regular cycle.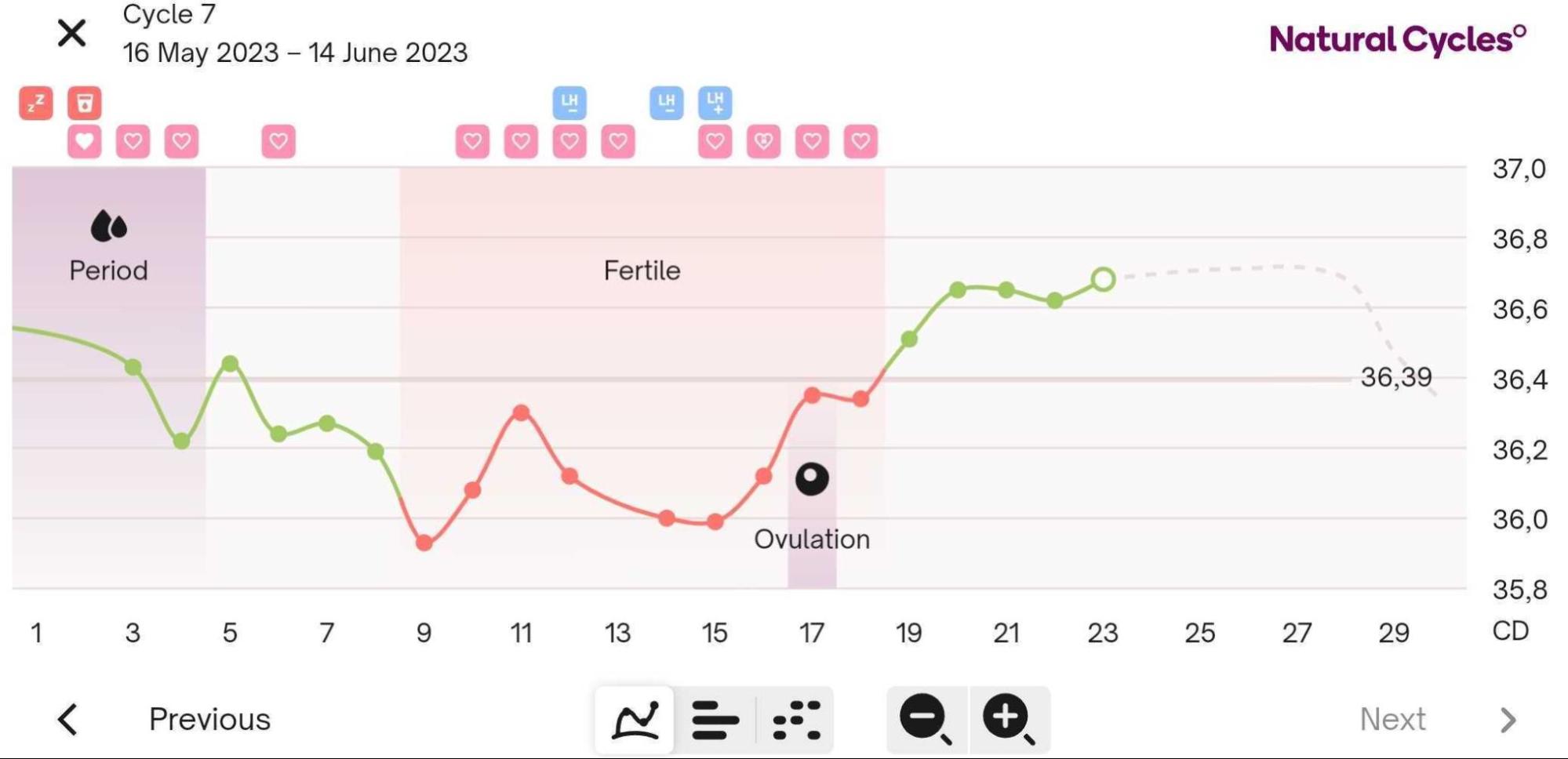 After ovulation (in the luteal phase), the progesterone level in the body increases, which causes the body temperature to rise.
Therefore, the temperature rise is the most important indicator to confirm that ovulation has occurred. If the algorithm finds a sustained temperature rise, it confirms that ovulation has occurred in that cycle.
When a new cycle starts, the temperature drops back down to the follicular phase temperature range during menstruation.
Fertility based on your unique menstrual cycle
Charting body temperature is not a new form of birth control or fertility method. However, Natural Cycles pairs this traditional method with an algorithm that learns the pattern of your unique cycle to predict your fertile window. Natural Cycles can accurately capture every unique cycle by taking cycle irregularity, temperature fluctuations, recent usage of hormonal contraception, ovulation day variation, sperm survival, and several other essential factors into consideration.
Natural Cycles uses body temperature data, period data, and optional LH data to calculate your daily fertility status. This fertility status is used to help you either prevent pregnancy using NC° Birth Control or plan a pregnancy using NC° Plan Pregnancy.
How to use Natural Cycles:
Measure temperature. Temperature data can be collected using one of the

NC° basal thermometers

, or you can pair your

Oura Ring

or

Apple Watch

with the Natural Cycles app. You should measure your body temperature as many days in your cycle as you can. It's okay if you miss a day here and there – this does not impact Natural Cycles' effectiveness! However, the more often you add temperature data, the better the fertile window will be isolated, and the more green days you will get. We recommend that you try to add temperatures at least 70% of the time, or 5 out of 7 days in the week.

Add data. Add your temperature data and, when relevant, period data (which lets the algorithm know when a new cycle starts and helps it find your ovulation), and Natural Cycles will analyze your unique cycle and identify your daily fertility status.
Learn your fertility. Depending on where you are in your cycle, you'll either be given a green day (not fertile) or a red day (fertile). You need to use additional contraception like a condom or abstain from sex to prevent pregnancy on all red days. The algorithm defaults to giving red days if there is not enough information to confirm that you're not fertile. This is why it's important to provide the data points – temperature and period data – for the algorithm to give more green days.
There are three ways to use Natural Cycles: NC° Birth Control, NC° Plan Pregnancy, and NC° Follow Pregnancy. Please follow the links below to read more about the specifics of the Natural Cycles mode you're looking to use.