Cycle graph
In the Natural Cycles app, you can view your cycle data in your graph. You can access your graph from the Today view. You get an overview of your whole cycle, and you can pinch and zoom with your fingers to view more than one cycle at a time.
Some key elements in the cycle graph:
To the right, you see your cover line temperature and a range of temperatures.

You can see your red and green days throughout your cycle.

You can see your period and ovulation window. Read more about ovulation predictions

here

.

On the top, you can see all algorithm-related icons you have logged—for example, LH test results, sex, reasons for excluded temperatures.

You can click on the data points to view more details of what you logged on a specific day.

You can see your cycle days at the bottom of the graph.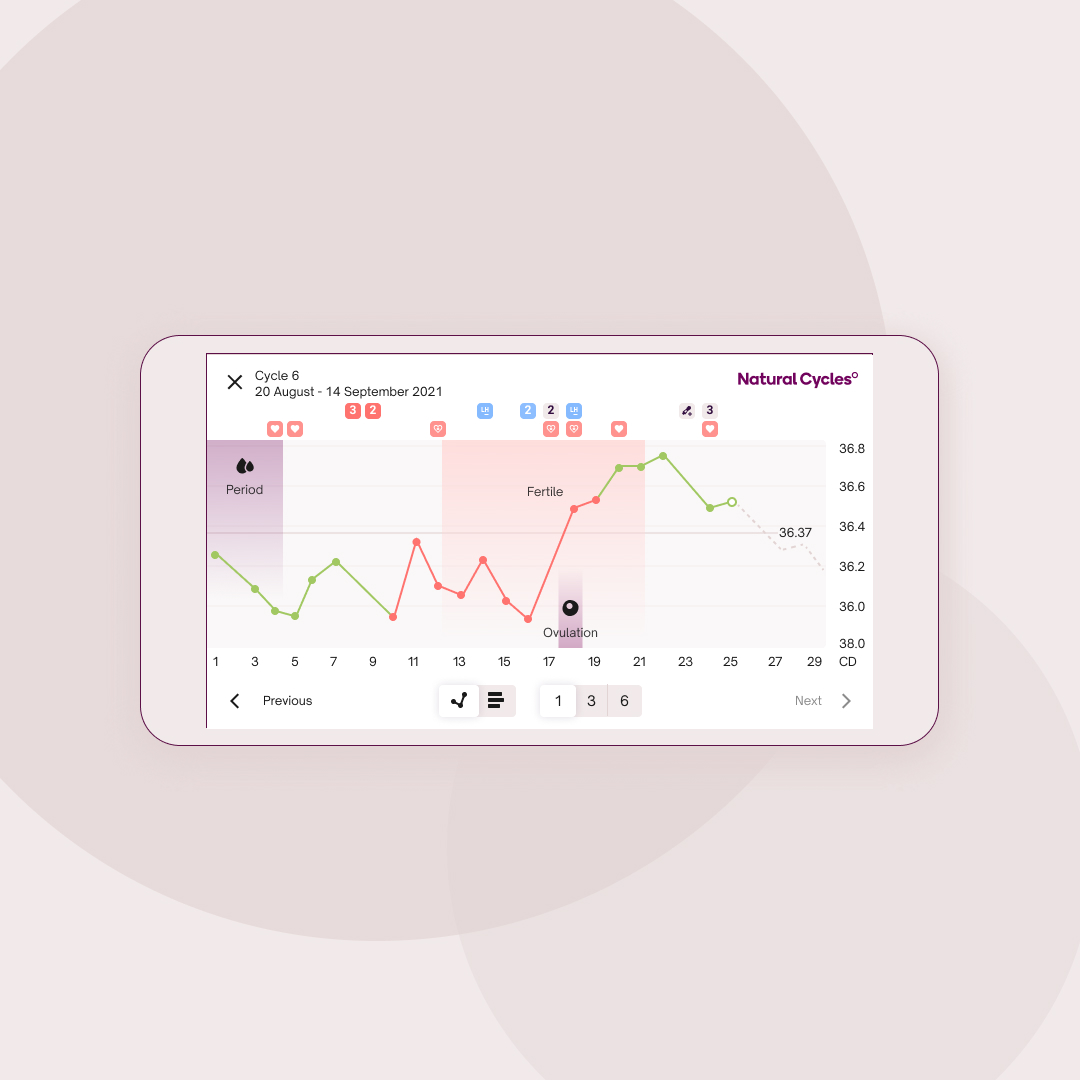 *An icon with a number (for example

) means that you have logged more than one tracker related to that algorithm category. You can click on the data points for more details.
Why is the graph important?
The graph helps you learn more about your unique cycle. It's also the best way to understand your temperature shifts and how it looks throughout your cycle. In the 'My Data' view, you can access more information about your temperatures in "Temperatures - see more."
Natural Cycles makes a prediction for the upcoming ovulation day based on your historical data, such as average ovulation day, cycle length, etc. Every cycle is unique; therefore, Natural Cycles will never assume that your ovulation will occur on the same day as previous cycles. When the temperature has risen enough, it will confirm ovulation from the temperature curve.
Read more about temperature and ovulation detection here.
Compare graph
By tapping on the 'compare' button, you can view your current and previous two cycles (shown in the picture below).
Scroll up and down to view more cycles. Comparing your cycles makes it easier to see cycle-to-cycle changes, such as your period and cycle length, temperature variation, and ovulation window and day. Your current cycle will always be displayed at the bottom of the Compare view, and you can see the cycle number on the left-hand side of this view. The thicker line at the right-hand side of the graph indicates the length of the cycle. The bottom indicator for cycle days will adjust to reflect the length of your longest visible cycle.
You will also see the same predicted temperature curve, as you see on the 1-cycle view.