Upon opening your graph, you can compare your cycles in a new format. However, you can of course still scroll, and pinch to see more, on the graph as you have done in the past.
We have also updated the number of cycles you can see at once within the regular graph view – 1, 3, or 6 cycles. The current cycle is now also numbered at the top left-hand corner of the graph view. With this, we also updated how the dates in the cycle are displayed. We have also added CD in the bottom indicator, to highlight that it's the Cycle Days that are displayed.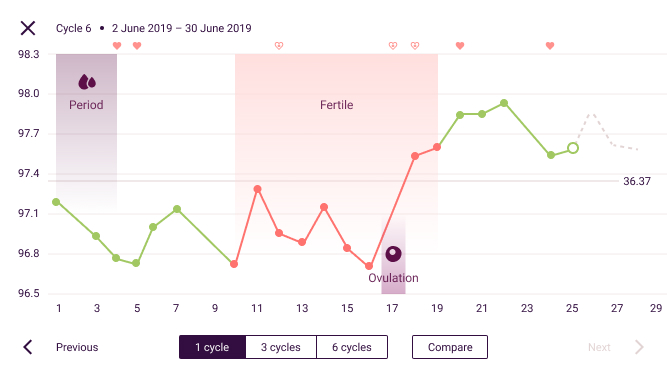 By tapping on the 'compare' button, you can view your current and previous 2 cycles. Scroll up and down to view more cycles. Comparing your cycles makes it easier to see cycle-to-cycle changes, such as period and cycle length, temperature variation, and your ovulation window and day. Your current cycle will always be displayed at the bottom of the Compare view and you can see the cycle number on the left-hand side of this view. The thicker line at the right-hand side of the graph indicates the length of the cycle. The bottom indicator for cycle days will adjust to reflect the length of your longest visible cycle.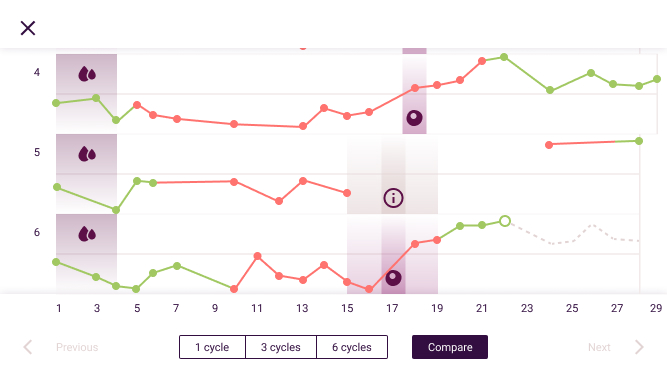 If you have not yet added data for today or missed a few days, you will see the familiar vertical 'Today' line indicating where you are currently at in your cycle. You will also see the same predicted temperature curve as you see on the 1-cycle view.